Mini-Grants and Undergraduate Research Grants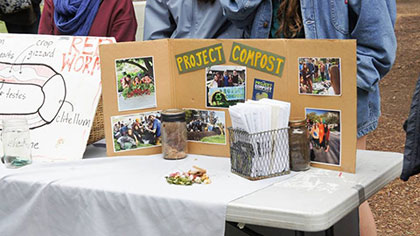 The Mini-Grant awards are between $200-$2,000 for small projects and undergraduate research that must be completed within one year. Research projects should be presented at the spring Undergraduate Research Conference unless the research is for the following summer and fall.
Apply by submitting an application. Failure to follow the instructions and requirements listed in the grant proposal form will disqualify your application.
In 2017, the Committee awarded the following Mini-Grants for projects and student research:
Aggie Rack Restoration Project with Recycled Bike Parts, $2000; Bryan Sykes, Political Science, Bianca Antunez, Aggie Distribution Student Manager, and Laurie Pederson, Aggie Business Development Manager
Aggie Reuse Store Revitalization, $1415; Nicole Garcia, Communication
Aggie Stadium Zero Waste Signage, $1990; Sue Vang, Engagement and Zero Waste Program Manager
Calculating the UC Davis Campus Nitrogen Footprint, $1350; Miroslava Munguia, Environmental Science, and Elizabeth Castner, Geography
CoHo Waste Diversion, $2000; Brooke Garcher, Sustainable Environmental Design, and Kelli O'Day, CoHo Sustainability Coordinator
Ethical Eating and World Peace Speaker, $300; McKenna Maxwell, Environmental Science and Management, and Ili Zisman, Animal Science
Floating Island in the Arboretum Waterway to improve Water Quality, $2000; Kendal Hicks and Tiffani To, Environmental Science and Management, and Nina Suzuki, Arboretum and Public Garden Waterway Steward
Fragrance-Free UC Davis, $1395; Claire Montgomery, Nutrition and Music, and Liza Grandia, Associate Professor of Native American Studies
Fresh Focus Program: Gleaning Coordinator, $1960; Dana Ng, Sustainable Agriculture and Food Systems, and Katharine Ullmann, Director of Student Farm
Increasing Landfill Diversion within AEPi Fraternity, $800; Zachary Jamison-Cash, Biomedical Engineering & Managerial Economics, and Daniel Vainish, Political Science
Incentivizing Recycling Behavior Through Interactive Waste Bins, $800; Joel Montalvo, Undeclared Life Sciences, and Sue Vang, Engagement and Zero Waste Program Manager
Inclusive Sustainability Marketing to Residence Halls, $635; Isabella Jimenez, Pre-Landscape Architecture
Low Impact Design Monitoring in the Arboretum, $2000; Vita Sandhu, Environmental Science and Management (Watershed Track)
Medicine Collection Bin, $2000; Melissa Oh, Business/Managerial Economics, and Joanne Brasch, Lecturer-Textiles and Clothing
Picnic Day Zero Waste Children's Discovery Fair, $583; Elisa Pohlhammer, Human Development and Psychology
Project Invigorate: Sustainable Horticulture and Landscape Redesigns, $1992; Chen Zhong, Sustainable Environmental Design, and Heigi Wan, Viticulture and Enology
Research: Reduction of toxic phenolic compounds in olive oil waste streams, $1244; Chelsey Souza, Pharmaceutical Chemistry, and Lauren Crawford, Food Science and Technology
Research: Kinetics study and optimization of crude urease extract, $1750; Kahui Lim, Civil Engineering
Research: Smart Trash Can, $1990; Pranav Gupta, Navid Al Nadvi, Jenny Yang, and Andrew Shephard, Computer Science and Engineering
Solar-Heater Radiant Floor Upgrade at The Domes, $1440; Jake Parkhurst, Mechanical Engineering
Solar Powered Ventilation and Education at the Student Farm's Greenhouse, $1550; Noah Coleman, International Agricultural Development, and Raoul Adamchak, Market Garden/CSA Coordinator, Student Farm
Sustainable Greek Life, $252; Vivian Connolly, Environmental Science and Management
The Happiness Project: Sustainable Self Care, $370; Maria Bundang, Psychology, and Lilianna Russu, Communication and Cognitive Science
Yolo County Farmworker Justice Awareness Project, $1000; Matt Bridges, International Agricultural Development
 TOTALS: 26 of 30 submitted projects funded.  Total Mini-Grant funds awarded: $32,816