The Green Initiative Fund
Student Involvement: The Green Initiative Fund
MISSION: The Green Initiative Fund (TGIF) promotes sustainable development by providing necessary funding to the UC Davis community. TGIF involves and educates students of all backgrounds by empowering them to develop, propose, and enact sustainable projects on campus.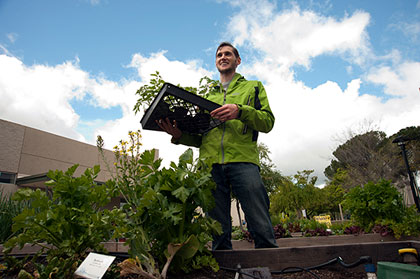 The Green Initiative Fund, a campus program hosted by the Office of Sustainability and supported by student fees, offers students the opportunity to develop and launch innovative sustainability projects on campus, and to have a greater impact on sustainability within the UC Davis campus and the immediate region. The Fund awards between $100,000 and $200,000 each academic year to projects that positively impact students through increasing educational opportunities, promoting environmental awareness, engaging in sustainability research, advocating for climate and environmental justice, reducing greenhouse gas emissions, increasing energy and water efficiency, limiting the amount of waste created on campus, and encouraging healthier, more planet-friendly lifestyles.
TGIF funds are available to UC Davis students, faculty, and staff. Undergraduate students are encouraged to submit proposals. Staff, faculty, and graduate students may also submit proposals. To be considered, proposals must articulate the undergraduate student role in the project proposed for funding. Priority is currently given to projects that involve undergraduates and that are located on the central UC Davis campus. Projects awarded in 2017-18 involved students from 19 different majors.
Grant proposals are currently accepted three times a year. The proposals are evaluated by an annually appointed Grants Committee that includes students, faculty, and staff (students hold a majority). 
Contact us at TGIF@ucdavis.edu!