Brooke Garcher
Former TGIF Committee Member (2017-18) | Project Lead for the CoHo Rooftop Garden and the CoHo Waste Diversion Project
"TGIF has given students and faculty the ability to become changemakers! By offering micro-grants and larger grants to advance sustainability for the good of students and the UC Davis community, grantees get the chance to develop, manage, and deliver projects - something that is often inaccessible to students and something you can't do until you're at mid-career level."
---
Sydney Cliff
TGIF Committee Member (2020-21) | Undergraduate Environmental Planning & Policy Analysis Student
"TGIF supports sustainability efforts by encouraging students to create and implement projects and research that go above and beyond the overall campus goals. Having student-led projects leads to more flexibility in how sustainability can be integrated into campus operations, and creates an on-campus culture of innovation and leadership."
---
Megan Phelps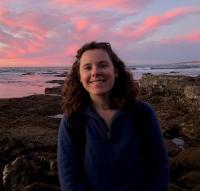 Project lead for The Climate Reality Project: 24 Hours of Reality | Undergraduate Environmental Science & Management Student
"TGIF enables UC Davis students to pursue projects that raise awareness about and directly address environmental issues. TGIF supported my student organization's vision to put on a 24 hour long climate education and action event, helping me see the power of the UC Davis community coming together to address the climate crisis."
---
Jeffrey Bruchez
Project lead for the Containerized Bicycle Storage Project  | Bicycle Program Coordinator with UC Davis Transportation Services
"I believe that empowering students to envision the future is brilliant. I hope that the program continues to enable many people, students, staff, and faculty, to tackle small manageable projects that bring the campus into a brighter and more sustainable future."
---
Christopher Flores
Former TGIF Committee Member (2017-18)
"I think one of the most important ways TGIF was able to make an impact was by increasing the visibility of sustainability projects across campus. Whether it's additional funding for increased biodiversity in the Biological Orchard Gardens (the BOG), repurposed bicycle parts as The Aggie's newsstands, or a floating island habitat in the arboretum: these projects make the ambition of sustainability-focused undergraduates more tangible to the campus and Davis community."
---
Raquel Victoria Navarro
Project lead for the Sustainable Living & Learning Communities East Entry Woods Stewardship Project | Undergraduate Sustainable Agriculture & Food Systems Student
"Many students and campus programs rely on TGIF to jumpstart new initiatives and projects that improve campus for all of us to experience. Without the renewal of TGIF, many students and other programs would have very limited funds to actualize their sustainability goals!"
---
Nermin Dessouky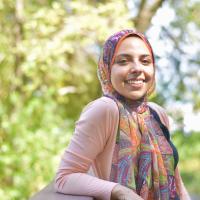 Former TGIF Committee Member (2018-19) | PhD Candidate in Urban Geography
"I think 10 years from now TGIF could become a verb within the local community. For example, if someone has a great project idea and is asked 'how will you fund it', in the UC Davis community I would like them to answer with 'I will green fund it with TGIF'."
---
Maria Arteaga
Former TGIF Committee Member (2018-19)
"TGIF has had an incredible impact on UC Davis and its sustainability goals! Funding student led projects has proven to funded teams and future grant recipients that their sustainable entrepreneurship is highly valued and championed. TGIF allows students themselves to be at the forefront of UC Davis' sustainability effort, like a good higher education system should."
---
Skylar Johnson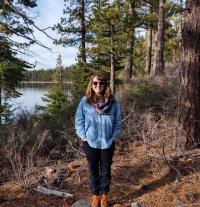 Project lead for the Tercero Resident Garden Project | Sustainability Specialist with UC Davis Student Housing & Dining Services 
"TGIF has given students the opportunity to self-direct their own sustainability projects and implement creative solutions to social and environmental issues. This gives students more opportunity and influence to envision and create a more sustainable future for UC Davis and the greater Davis community. Students voices have a long history in advancing sustainability in the UC, and TGIF is critical is giving more focus and student-stewarded resources for advancing that mission."